NATIVE INSTRUMENTS BATTERY 2
NI BATTERY 2 SOUNDS & SAMPLES

Get Battery 2 Samples & Battery 2 Drum Kits
Free Battery 2 Instrument Riff Samples
NATIVE INSTRUMENTS BATTERY 2
Review by Mark Starlin 
When it comes to the current state of drum and percussion production, there are many choices. Besides real drummers and hardware drum machines, choices include drum loop CDs, software samplers, virtual drum machines/modules, and software percussion plug-ins. So why would anyone want to use a dedicated drum sampler like Battery 2? One word: originality. Battery 2 not only gives you over 3 GB of great sounding samples, it also gives you numerous tools to modify the samples and create your own unique kits. Battery 2 offers so many editing features it is difficult to even imagine, let alone describe, all the possibilities they provide.
Extremely Brief Overview
Battery 2 is a virtual drum playback module that features a multi-layer sample cell matrix and powerful programming tools to modify samples. It operates in standalone mode or as a plugin in any AU, VST, or RTAS host.
What's New
If you are familiar with version 1 of Battery , here is a brief overview of some of the new features in version 2. (Be sure to get the version 2.1 update as it fixes a major EQ bug, adds a new options pane, supports direct from disk sample playback, and adds thirteen new "All" preview kits.) We'll discuss them in more detail throughout the review.
A new sampling engine with 32 bit sound processing and 256 stereo voices
An improved, easier to use interface with an adjustable cell matrix
Dedicated filter/equalizer with 15 types of filters
A compressor geared for percussion instruments with presets
A modulation router with a wide range of modulation sources and targets, with up to 8 modulation paths per cell.
Graphical sample mapping
Up to four loops per sample
New 3.5 GB sample library that includes optimized version of the Battery 1 kits, plus all new material including natural drums and percussion, orchestral percussion, electronic beats, human voice, and more.
Support for many more sample formats.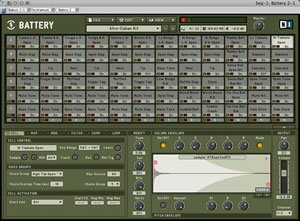 Battery 2 Plug-in interface
Battery 2 Drum Kit Samples for Native Instruments Battery 2!
The Interface
The new interface is a big improvement over version 1. Global controls for loading kits, setting the matrix size, and adjusting the master level are all at the top of the interface along with audio level meters and numerical information on polyphony used, memory used by the kit, and output level. A new Options pane, in version 2.1, lets you configure MIDI controllers, outputs, Direct From Disk sample playback, and default kit options.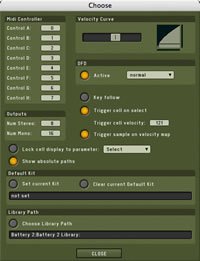 The new Options Pane.
Battery 2 Sample CDs for Native Instruments Battery 2!
A new Browser pane integrates file browsing into Battery , instead of a separate window. In Kit previewing has also been added in version 2.1. If a sequence is running in your host application, In Kit previews allows you to hear the selected sample in the context of the song being played.
NI BATTERY 2 SOUNDS & SAMPLES

Get Battery 2 Samples & Battery 2 Drum Kits
Free Battery 2 Instrument Riff Samples

The new integrated File Browser pane toggles with the Edit pane.
Download Samples & Sounds for
Native Instruments Battery 2!
Below the master controls is the Drum/Sample Matrix where individual samples are stored and selected for editing. The matrix is adjustable to show up to six rows of 9 or 12 cells for a total of 72 possible cells at one time. Each cell can contain up to 128 layers of samples, allowing the use of different samples for different velocities of hits, creating more realistic drum kits. Cells can be moved around the matrix, soloed, muted, and assigned to any MIDI trigger or controller. Selecting a cell allows you to manipulate the sample(s) it contains using Battery 2's many programming features.
… . The Edit Pane is a collection of tools that you can use to manipulate samples in a variety of ways. These are located directly below the drum/sample matrix using a tabbed interface. First up is the Cell View Tab where you can manage cells by assigning key range, MIDI channels, renaming them, etc. It also allows you to assign Voice Groups, so that triggering a closed hi-hat will turn off an open hit-hat, for example.
….. The Map View allows you to graphically assign up to 128 layers of samples in a single cell and assign velocities (via zones) to trigger the samples. You also have independent control over tune, pan, and volume of each sample within a cell.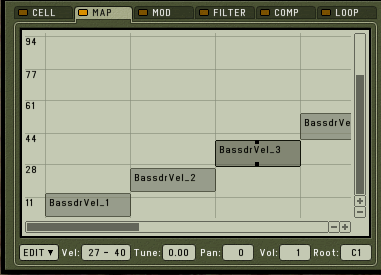 The Mapping pane
The Modulation View allows you to use various controllers to change the values of parameters within a patch. This allows you to create and automate real-time changes. The Modulation router has up to eight modulation paths. Sources include Velocity, Pitchbend, Modulation wheel, LFO, Modulation Envelope, Aftertouch, and many more. Destinations include Volume, Pan, Tune, Bits, Hertz, Filter Cutoff, various EQ parameters, and more.
….. The Filter View Tab offers a number of filters including Low-Pass, High-Pass, Band-Pass, Band EQ, Phase Filter. And Vowel A and B filters, which model the response created by the human mouth when pronouncing vowels. There are several presets available to get you started.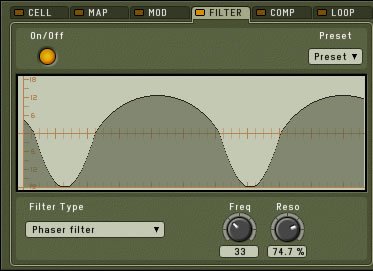 The Filter pane
NI BATTERY 2 SOUNDS & SAMPLES

Get Battery 2 Samples & Battery 2 Drum Kits
Free Battery 2 Instrument Riff Samples
The Compressor View gives you access to a dedicated compressor geared for percussion instruments. It contains all the standard compressor controls. There are a number of presets included.
… . The Loop View allows you to create up four loops using sections of a single sample. Creative sound designers can turn single hits into evolving sounds that can be modified by envelops to create dynamic changes over time. A snap to zero function allows you to easily create click-free loops.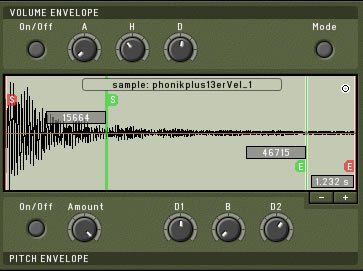 Looping a sample
Next up is the Modify Module where you can wreak sonic mayhem by changing tuning, saturation, bit resolution, and bit rate. This makes it a snap to create some truly lo-fi sounds, or get the kit to sit better in a mix.
….. Finally, we come to the Volume Envelope, which allows you to impose a volume envelope over the sample. You can control Attack, Hold, Decay, Sustain, Release parameters. This makes it easy to turn a kick drum sample into an electronic beat by eliminating the attack and cutting the decay. A Pitch envelope is also included for further sonic manipulations.
NI BATTERY 2 SOUNDS & SAMPLES
Get Battery 2 Samples & Battery 2 Drum Kits
Free Battery 2 Instrument Riff Samples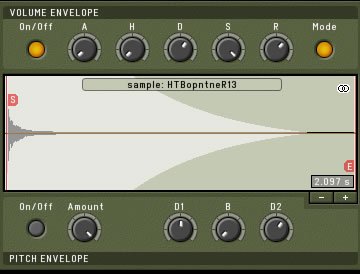 The Volume Envelope pane
Download Samples & Sounds for
Native Instruments Battery 2!
Included Content
Battery 2 ships with a huge collection (3.5 GB on a DVD) of drum and percussion content. They cover a lot of stylistic ground are all very useable, and there are several standouts such as the Orchestral Percussion kit which is very high quality. All of the Battery 1 kits are here, so you won't lose any old favorites. The version 2.1 update includes new "All" kits which allow you preview all the available instruments of a certain type — all the available snares for example. The new content is divided into 5 categories:
Acoustic kits
A full General MIDI kit; a Jazz brush kit; a cool Old Jazz kit; multi mic soul and acoustic kits that use multiple microphones on each drum, so you can mix the amount of direct, overhead, and room microphones in your host application; and a multi stick acoustic kit recorded by playing each drum with six different mallets, allowing you to switch from sticks to brushes to multirods simply by pressing different keys.
Percussion Kits
Battery finally gets an Afro-Cuban percussion kit along with the outstanding Orchestral Percussion and Timpani kits.
Electronic Kits
Ten electronic kits featuring two kits designed by sound designers Sascha Ring and Thomas Krarup, plus four kits derived from various Native Instruments products such as Absynth, FM7 and different Reaktor modules. Also included is a Hip Hop/R&B kit, a tech house kit, and a kit of aggressive, industrial-type sounds. There is also a kit created entirely from an old Roland Jupiter 6.
Special Kits
A BeatBox kit made entirely from human voice samples; a simple wave form kit made from only 5 samples (sine, triangle, square and saw wave plus white noise); and a kit of "sound effects" with many types of strange noises.
All Kits
Need to find the perfect snare, cymbal, tom, or kick drum for your kit? The new All kits let you quickly preview all the available instruments of each major type of percussion instrument.
Whether you are looking to create realistic drum simulations, dance floor beats, or movie soundtrack noises, Battery 2 offers lots of appropriate content. And the available programming and editing tools give even greater options.
Supported Formats
Battery 2 allows you to import most drum sample formats including EXS24, Gigasampler, HALion, AKAI S-1000/S3000, REX I & II, AIFF, WAV, SDII, SoundFont2, SampleCell, LM4, Kontakt, Intakt, Kompakt, and Battery 1. I didn't have access to all these formats to test, but I had no problem importing, Kontakt, REX, SoundFont2, EXS24, AIFF, WAV, and SDII formats. When importing Giga files, I got several generic "Giga #1, Giga #2, etc." names instead of the actual sample names. Others have reported mapping problems with AKAI and Halion formats.
Download Samples & Sounds for
Native Instruments Battery 2!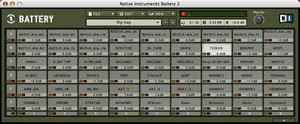 Standalone interface with the editing pane hidden.
Appropriate of live use.
In Use
I tested Battery 2 in standalone mode and as a plugin with Digital Performer 4.0 and 4.5. Using standard MIDI files, "playing" my keyboard controller, and programming beats with DP 4.5's drum editor, I tested Battery 2 in the way I image most real world users would use it.
….. Creating realistic acoustic drum tracks was a snap with the wide variety of kits available. I especially liked the Old Jazz kit. The multi stick kits are a clever idea. By selecting different MIDI keys while a track is playing, you can switch between the different mallet types, such as stick, brush, hand, multirod, etc. The Multi Mic kits sound interesting also, but unfortunately DP 4.5 doesn't support multiple outs in AU instruments. I could probably devise a workaround with multiple instances of Battery and muting different cells, but using virtual instruments should make things easier not more difficult. So for now, it's one kit I can't use to its full potential.
….. Programming some danceable electronic beats using DP 4's drum editor was no problem. Tapping in some smooth grooves on a MIDI keyboard controller also worked well.
….. Of course, the real fun begins when you start to create our own kits by picking samples from different kits and then tweaking them with the included programming tools. The new All kits make the process of comparing and selecting instruments much easier, which allows you assemble custom kits all the quicker. Since Battery 2 can import just about any sample format, the possibilities seem endless for those wishing to create unique kits.
Quibbles
I realize Battery 2 is geared to those who like to create their own beats, but it would be cool to have some included MIDI content to build on or play with. There are brief, example MIDI files that show off each kit, but that's it.
Final Thoughts
For those who prefer to create their own beats instead of using pre-packaged loops, or those who want to build the perfect one-of-a-kind drum kit, or even those who just love messing with existing sounds, Battery 2 is a powerful tool geared to help you accomplish your goals. It comes with lots of great sounding source material, including some real stand-out kits, and powerful tools to make that material your own. It is more powerful than version 1, yet its new interface makes it easier to use. If you won't settle for anything less than originality from your drum and percussion parts, Battery 2 is definitely worth checking out
Battery 2
Version : 2.1
• Fast, powerful and intuitive drum sampler based on a next-generation sample engine
• Fast and direct access to wide range of sound parameters for each individual cell.
• New: Up to 72 sample cells for large and versatile drum kits
• Variable cell matrix size to match individual requirements
• A filter section for each cell with 15 individual types
• A powerful compressor for every cell with optimized presets
• Extensive modulation options including a freely assignable envelope and LFO for each cell
• Mapping editor managing 128 sample-layers per cell
• Up to 16 mono and 8 stereo outputs, 256 stereo voices , 32 Bit internal resolution
• Over 3,5 GB of professional drum and percussion samples
Strength : Great collection of drum and percussion samples with powerful editing capabilities.
Weakness : Importing material in some formats can have less than perfect results.
Approximate Street Price: 
$199.00
Rating

Ratings Key :




System Requirements:
Minimum System:
Mac OS X 10.2.6, G3 500, 256 MB RAM
Windows XP, Pentium III/Athlon 500 GHz, 256 MB RAM
DVD Drive
Recommended System:
Mac OS X 10.2.6 +, G4 733, 512 MB RAM
Windows XP, Pentium / Athlon XP 1 GHz, 512 MB RAM
Interfaces :
Audio Units, VST, RTAS, DXi, ASIO, Core Audio, Core MIDI, DirectSound
NI BATTERY 2 SOUNDS & SAMPLES
Get Battery Samples & Battery 2 Drum Kits
Free Battery 2 Instrument Riff Samples